Enriquillo Amiama celebrated his forty years in art and, at the same time, his return to the Dominican art scene, where he had not exhibited individually since 2008.
A selection of works was exhibited on two floors of the Museum of Modern Art of the Dominican Republic.
Curated by Maria Brito.
Maria Brito divided the retrospective exhibition of Enriquillo Amiama into seven key themes: Abstracts, Women, Still Life, Intertwined Landscapes, Figurations, Instagram Stories, and Painted Photos.
Curatorial Statement
XXI marks the 40th anniversary of Enriquillo Amiama's career and presents 68 paintings organized in a thematic way.
 As a consummate comm­­­­unicator, voracious student of art history and sharp observant of current events, the perspective of Enriquillo Amiama stands on both the universal and the local, which he mingles seamlessly in his work.
 In his practice, which started in 1982 with a postmodernist approach that is anti-hierarchical by nature, Amiama moves with ease from abstraction, to still life, to landscapes, to figuration, refusing to be boxed in any single definition.
 Often mixing different styles and media, he has created his own tropical pictorial language and blended it with a range of genres from the past and the present.
 Obsessive with composition and technique, it's possible to find paintings in Amiama's body of work that combine the use of letters, words and graphic elements with hyperrealism and abstract shapes.
 Being one of the most celebrated and prolific contemporary Dominican artists, Amiama has captured the essence of the Caribbean and unapologetically fused it with pop art.
 The evolution of his work from the geometric forms of 1980s to the social media inspired paintings of the present, shows his insatiable curiosity for the world around him and his willingness to explore it with rigor in composition and elasticity in subject matters.
 This unprecedented retrospective of early, mid-career and recent paintings will provide a refreshing outlook to old and new followers of Amiama and his work.
A Seascape for Johns II
At the beginning of his career in 1982, Amiama was already showing his ambidextrous capacity for abstraction and realism, which granted him a spot as a pioneer of postmodern painting.
In the early works, there are geometric references in homage to Kandinsky, gestural moments that recall abstract expressionism and color field, words written in the background, and political statements against the devastations of colonialism and its impact on the indigenous inhabitants of what nowadays became the Dominican Republic.
In more recent paintings, there's a fluid interplay between figuration and abstraction, strong graphic elements, saturated colors, and references to the work of American contemporary artist Jasper Johns.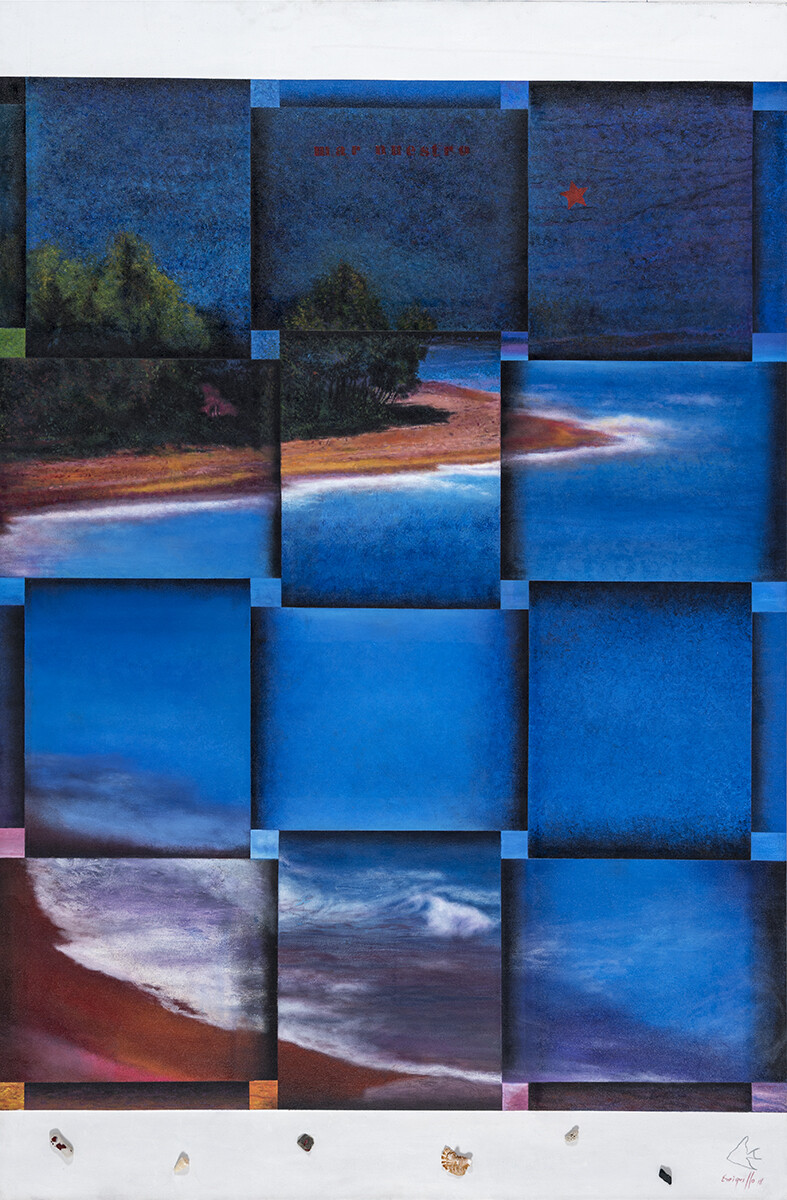 Our Sea
Deeply interested in scientific innovations in aid of art, Amiama began experimenting with digital technology in the early 21st century. Instead of using a drawing pad, he began creating sketches on his computer.
"Doing digital sketches for over 20 years and then adding elements of the internet and globalization have made my paintings borderless. My art is Dominican and universal at the same time.»
While studying photography and graphic design, these new technologies allowed him to create geometric abstractions by breaking up the plane of a landscape and adding a composition that resembles the grid of Piet Mondrian's 1943 Broadway Boogie Woogie.

Dominicana
"Women" shows Amiama's ease with fusing graphic design elements with traditional painting. Creating the illusion of depth with interlaced, superimposed stripes, he breaks the main subject with geometric shapes previously developed based on algorithms.
"My flowers are the byproduct of a healing process after the terrible events of 9/11 …
I couldn't paint anything for many weeks.
Then I turned my gaze to an article I had contributed for the magazine International Artists published in Australia, and I followed my advice to find and extract visual information from our surroundings in film, nature, music…"
For Amiama, the flowers are thermostats of emotions: "when someone is sad, they receive flowers; when someone is happy, they get flowers too."
They also represent the beauty of women and infuse hope and the expectation of a better world.

Titi's Portrait as America Continent
Amiama learned to paint the figure from live models as a classically trained artist. Her themes are women, from realism to artificial situations and diffuse backgrounds. The striped sheet motif from her still life also appears recurrently in her portraits.
Amiama uses figuration to articulate her deep interest in the human condition in its innumerable complexities and to play with individual and collective memory.

Picasso, Johns and Me, Talking About How To Be An Artist
Still lifes by far dominate Amiama's practice, which he has explored extensively throughout his career.
The mangoes, an element characteristic of his work, were inspired by the Mexican painter Martha Chapa whose oeuvre revolves exclusively around apples. Instead of painting the quintessential European-forbidden fruit, Amiama goes for the sensuality of the tropics and makes the mango the protagonist of hundreds of rigorously composed still lifes. These are meditations on the relationships of color, line, depth, and form and a metaphor for erotic love.
"The colors and shapes of mangoes allowed me to play with the striped sheets in different colors that helped me harmonize chromatically and with the mix of styles".

Princess of The Moon. The Metaverse Queen. IG Stories
Fascinated by the arrival of Facebook, Amiama took to the platform in 2010 to make new friends. He then asked these new friends to pose for pictures of him so that he could turn the images into paintings.
Later in 2014, he joined Instagram, the most visual of all social networks.
This prompted him to create a new series in which he added formal elements of the app's now ubiquitous iconography: hearts symbolizing the likes given to a post, the comment bubble, and the share arrow.

Forest Dreams
Following in the tradition of German artists such as Gerhard Richter and Anselm Kiefer, who have used photography to express themselves as painters, Amiama has expanded the potential of image creation through a dialogue between old and new media.
Amiama's brother, Martin, is an award-winning photographer, and he took the images for these works that depict nature and the earth.
By intervening these digital photographs with oil paint, Amiama seeks innovations in the field of painting and creates a hybrid genre that adds texture and color, bridging two lines of inquiry today.